Worth it ;) love Russian velvet. Feel so comfortable;) Will order more
Mx
08/02/2020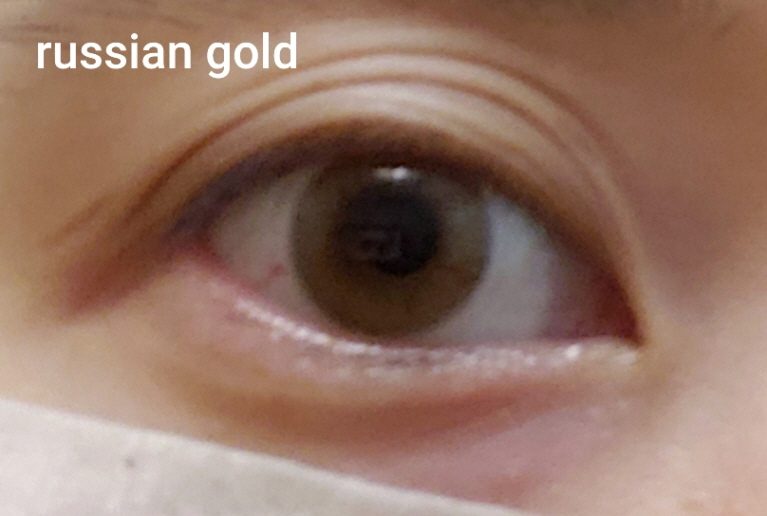 Review for Russian Gold:
Very comfortable dailies. Lens looks really orange at first but on brown eyes, it gives a golden color. Not enlarging. Very pretty smooth/milky color.

samples for 2 boxes: russian gold, spanish brown, 2 scandi hazels+greys
More
orange
08/01/2020

Review for MISTY ROMANTIC HAZEL. This enlarges your iris but the color is beautiful. The hazel is subtle so it doesn't show up much on dark eyes but adds a warm depth.

Samples I got: scandi hazel and grey, and spanish brown. 2nd box was also scandi hazel and grey, and russian gold.
More
orange
07/29/2020

Omg this is the prettiest packaging I have ever seen. I wore the Hazel free random pair that was included in the kit and I'm definitely going to buy this shade. These contacts are comfy and blend in with the eye. It's my first time wearing contacts and I'm glad OLENS was where I purchased from.<3
More
Erica
07/25/2020

Scandi Hazel makes my original eye color pop. Olens contacts in general look more natural and realistic. Super comfortable to wear and for someone whose eyes are sensitive to the solution most contacts sit in, I do not have that issue with Olens. Truly the best purchase I have made.
More
RisRae
07/22/2020

Product came in good condition and delivery was really fast like always!! Very satisfied 4th time ordering frm olens and im always happy with the service
Ahhuii
07/19/2020

These are less natural comparing to sunshine brown and Spanish brown, but still beautiful. Need full makeup to look natural.
Lin
07/16/2020

Simply natural and beautiful! I'm obsessed with these lens and will definitely get more!
Lin
07/16/2020

These are my favorite lenses I've tried. I have always wanted hazel eyes and these are very noticeable. 1st picture: my natural eyes. 2nd picture: contacts in natural lighting. 3rd picture: contacts with flash :)
Ö
07/10/2020

firstly the lenses are very comfortable and the packaging is sooo beautiful. shipping was quick but obviously for the amount paid. i have bought more than 10 pairs of lenses from olens so far and no disappointments yet. really love all the designs and quality.
More
jojo
07/04/2020